Shaggy carpets - softness and style in your home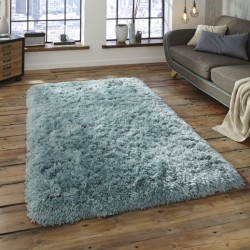 Carpets with a long nap or shaggy carpet (in English, shaggy, fluffy) is one of the most popular trends of the day. Most often they can be found in the living room or bedroom, so it creates a special atmosphere of tenderness, softness and comfort. Of course, most often the sheggy carpet is used for its intended purpose as an accent and heat preserving interior item, but it will completely replace itself, for example, with a chair or bed.
Of course, because the minimum length of the pile is 20 mm, and in the range there are carpets with a pile up to 70 mm. On the variety of the latter you can really sleep sweetly. The villi have different thickness, so this type of carpet is lush and textured. Shaggy carpets are just incredibly soft, it is a pleasure to walk barefoot on it. Besides:
- it has a certain foot massage effect;
- perfectly retains heat due to the air gap between the pile;
- able to perform the role of a humidity regulator in a room (soak it up, and then give it away);
- provides excellent sound insulation;
- perform the function of the main accent in the design solution of space, combining various objects in it;
- thanks to a wide size range and a variety of forms allow to use them in any features of the room;
- have a wide palette of colors, therefore, will allow to realize any design decision;
- often have a special impregnation to repel dirt.
Shaggy carpets can be machine-made or hand-made, their composition is a unique collaboration of artificial and natural raw materials. This makes it possible to ensure maximum use life and preserve the original appearance. The most popular natural materials are silk, wool and cotton. The leaders among the artificial raw materials are nylon, polyester, acrylic and microfiber. According to the method of manufacture, they are typing, wicker and fragmentary. In their production, three threads are used at the same time.
If you choose handmade carpets, then pay attention to the production of India and China, if the machine - Turkey, Egypt and Iran.
It is important to pay attention to the choice of color. We recommend to give preference to noble and muted shades. A warm tone can even increase the temperature in the room. When buying a shaggy carpet, consider the following factors:
- choose a supplier with good reviews;
- check the certificate of quality and passport confirming the quality guarantee compliance with hygienic standards;
- give preference to a dense and flexible basis, for example cotton fiber or vinyl;
- make sure that there is no sharp chemical smell;
- evaluate the texture for uniformity;
- to test the elasticity of the pile when bent and the ability to maintain shape.
It is important that despite its bulkiness and fluffiness, the sheggy carpet is absolutely hypoallergenic, so everyone can enjoy it in their home. However, you need to follow the rules of care for these carpets, so that they for a long time pleased with their impeccable appearance and did not become a place of accumulation of dust. Imagine that, without proper care, you can collect 1 kilogram of dirt per square meter. So, for the care of shaggy need to use special cleaners and tools. Clean it with a vacuum cleaner several times a week; in the winter, beat it outside every month; this will not only bring cleanliness, but also natural freshness to your home. For perfect cleanliness, use Vanish or Pile every few months.
If you are a fan of folk remedies, get acquainted with the most effective ways:
- in order to preserve the brightness of the paint, sprinkle salt on the carpet and then sweep it with a broom using soapy water;
- to remove dirt, you can use bran and pumice stone, crushed into crumb. After processing, do not forget to knock out the carpet so that the cleaning agents do not remain in the pile;
- an excellent cleaner is ammonia, it should be mixed with powder and water. After cleaning, air and dry the carpet.
The carpet has been a cult object and an accent thing in the house for many centuries. Shaggy carpet is a coziness and comfort in a square. So that he will please you for many years, respond to him in return - do not forget to take care of him.