Mat is a practical napless carpets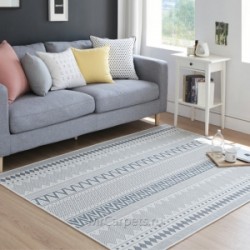 If you don't want to use in your interior synthetic carpets, the Mat will be a perfect alternative. Mat – floor, which has no pile and are made from natural plant fibers. Internet-shop "Kilimove Misto" a selection of these rugs.Products differ in their geometry and dimensions, you can buy a Mat like a carpet, and use it as a carpet on the floor.
Mat knitted on special machines or manually, they are easy to manufacture, so have a low cost. In the manufacture of this product does not use chemicals, so they do not cause allergic reactions and are ideal for use in areas with Pets and children's rooms. In addition, the Mat is not whimsical care and has a high service life.
Typically carpeting of this type is made in rolls. Thanks to this feature, each buyer carpet Mat, buy product may any desired shape and size. To further avoid rastrepyvanie, and the product does not slip on the floor, its edges sutured with a cotton or latex. The color scheme of the matting is not much different, usually natural colors that are perfect for any design.
Types of mats and their features
For the manufacture of mats used various natural materials, which are completely different from those used, producing carpets from synthetic. Each of these materials has a number of features and benefits. On the market today carpets are Rohozec:
- linen Mat. Have a pleasant and soft to the touch structure, but unfortunately short-lived.
- matting made of jute. Products from jute have high durability and practicality. They would be a great option for placement in areas with large concentrations of people.
- products made of coconut fibers or coir. This material resists moisture and offers easy maintenance.
- Mat of algae. In the manufacture of this type of coating is on the floor use seaweed. When buying pay special attention to the flavor of the product, it should smell sea salt.
- rice matting. This matting is woven from rice stalks, it is very thin and has a soft silky surface. One of the major advantages – a pleasant aroma.
- mats made of sisal. Such products have beautiful appearance, they are resistant to deformation and have a nice structure.
- matting of reeds. This flooring has high rigidity and strength.