Carpets Izumrud - luxury at Your feet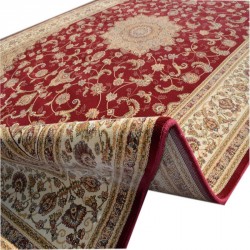 Carpets Izumrud - luxury at Your feet
Shop Kilimove City offers to Your attention a collection of rugs Izumrud. Belgian carpets Izumrud in its composition have 100% viscose. Therefore, they rightfully belong to the natural carpets. Viscose makes these carpets are extremely smooth and soft. And the density of such rugs 1 million nodes allows to speak about them as durable and long lasting carpets. From the first touch to the carpets Izumrud You will feel the excellence of viscose carpets over synthetic or other more rigid carpets.
The designers decided that such carpets it is important to be in the classical style, as they are his Imperial will be able to decorate ceremony halls, or room of any house.
There is no doubt that the Carpets Izumrud will give You pleasure from your stay in Your room as an aesthetic and tactile.
Buy Belgian carpet Izumrud You can in Internet store Kilimove Misto!