Contemporary rugs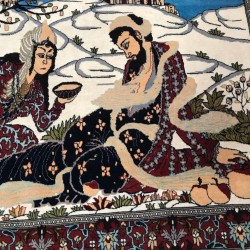 Do you want an unusual carpet? We will help you choose!
Modern fashion knows no boundaries in its development, and this has even affected carpets. Stereotypes draw us a large brown product with a dense pile that decorates a wall or floor. However, this is a thing of the past long ago. Rhythm in the 21st century dictates its own rules. The production technology, fabric, accessories and, of course, design have changed. A modern carpet is a stylish decoration for any interior. Its shapes can range from square to round or polygonal. There are no restrictions in color: you will not surprise anyone with standard coffee shades, all attention is focused on extraordinary solutions. The functionality has also changed: in addition to the familiar sound insulation and heat preservation, now it is a necessary floor covering in any house.
Peculiar types of carpets
Carpets on the wall. One of the most popular options. It can be an elegant decoration for your room if you choose the right colors and patterns. For a luxurious feel, try recreating the Persian style. Their woolen carpets with interesting national ornaments will not leave you indifferent. To buy such a carpet at a discount , you need to carefully look at the assortment. Alternatively, you can use a colored canvas on the entire wall - this is the best solution for a studio, a small bedroom or a euro-living room. The combination of bright colors with an ethnic pattern looks interesting.
Carpets-icons and carpets-paintings. The icon has always been and will be a suitable and pleasant gift for any family. Such work is not cheap, but it justifies its cost. High-quality work is sometimes hardly distinguishable from the work itself.
Acrylic carpets. One of the most common options for allergy sufferers. The material is known for its durability and strength without losing its excellent thermal insulation properties. You can choose any digestible pile length. If you are tired of traditional shapes, you can order them in the shape of animals, flowers or shapes.
Silk carpets. This light and delicate material will be an unusual addition to your home. They shimmer brightly in color and by their mere appearance demonstrate luxury, warmth and comfort. Renowned for their high density, Iranian carpets guarantee the finest detailing of the pattern down to the smallest detail. They are relatively lightweight, yet guarantee a long service life. Sizes can also be customized. Connoisseurs of the East will love the combination of silk with viscose, cotton or wool. This option is ideal for the summer, and for the winter, look for models with a longer pile.
Children will be interested in rugs with animal drawings or entertaining pictures. As an option see the web in the form of puzzles or bulky items - they can be represented by a full-scale picture. The irregular shape in the center of the room will also look curious. Boys will be interested in a carpet in the form of a football field, and for a girl - a flower meadow. Try not to take long pile - it will be easier to clean, and it will be easier for babies to learn to walk.
Houses with new layouts are more likely to have a large kitchen and living room, so try not to miscalculate with the size - more is better than smaller. In the case when there are two or more children in the family, and maybe even grandparents often drop in, the most comfortable will be to purchase a two-meter carpet. Here you can all get together and no one is left on the cold floor - there is enough space for everyone.