High quality acrylic carpet at an affordable price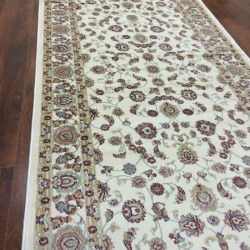 If you want to buy carpet in online store "Kilimove Misto" in its structure and composition resembling wool, is ideal for carpet of acrylic. Acrylic threads, which are paths, in appearance and properties resemble wool. These tracks are soft, supple and not much wear. In addition, they are exposed to fine painting, which significantly expands the diversity of their color choices. Carpeted often decorated with special patterns that can visually widen or lengthen a room. Opting for this product, you definitely will decorate your interior and add elegance and individuality.
Advantages of acrylic tracks
Acrylic carpet has many advantages. As a replacement for wool track, a floor covering made of acrylic has a pleasant and soft to the touch structure. Acrylic yarn, which fit the product, is a synthetic material, so this carpet will not rot and fade from exposure to sunlight. Many manufacturers impregnated with a track from acrylic protective structure. A special substance gives carpet water repellent. Carpets from acrylic have a great life. They cannot be exposed to different temperatures and retain their original form for a long time.
One of the most important features of a carpet covering of acrylic is that it is fully – Allergy. The product is ideal for people with allergies to wool and other natural materials.
Typically the carpeting is made from acrylic in a roll. It is very convenient. Each buyer can purchase the required length in accordance with their wishes. The standard width of the product varies and reaches 3 meters. In the case when you need a product other geometry, you can use the services of the wizard, which will manually make the track. However, it is worth considering that elite carpet will cost much more expensive.
If we talk about the shortcomings of acrylic, this slide into the pellets and the need for a thorough cleaning. But do not worry, cleaning carpets from acrylic does not require huge effort and time-consuming. They are easy to clean with detergents. To retain this product original appearance simply regularly vacuum coating.