Preparation of daily kilims and kilim roads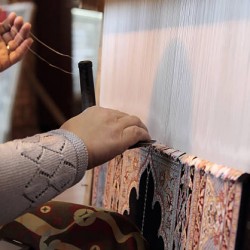 Carpets began to be made quite a long time ago and they are still very popular in many houses and for good reason - they are not only a stylish element of the interior, but also an item that adds comfort and coziness to a house or institution. The production of carpets has changed over the years and only for the better. The carpets that we could see in the 20th century are significantly different from those produced in our time - and patterns, and textures, and materials are different.
---
Materials used in modern carpet production
Materials are divided by purpose: base material and carpet pile material. There are materials that are most often used in the production of the base of carpets and rugs:
1. Vinyl is a material with high strength and durability. Many where it is used in production because of its wear-resistant qualities, not only in the production of carpets. Often such bases are suitable for high traffic areas. In addition, such a base is easy to clean.
2. Artificial felt is a material that is suitable for noisy rooms, as it has good noise insulation properties. Considering that it is made of rubber, it does not slip on the floor - this is a definite plus, because you do not have to constantly correct it on the floor. The downside is that such carpets wear out quickly and cannot withstand a large flow of people.
3. Natural jute is the most environmentally friendly material for those who care about nature. However, in practicality and durability, it is inferior to all others.
4. Synthetic jute - more practical and stronger than natural, but still inferior to vinyl and felt, because it has a number of disadvantages. It is badly affected by water, it slides on the floor. Although it is stronger than natural jute, it is best not to place it in crowded places.
The choice of fibers is much wider than the basics and the choice is harder to figure out. Therefore, before you
buy a carpet
, think about what material it should be. For convenience, we will divide into two groups: synthetic and natural.

Synthetic fibers for carpet runners
What is their feature? Artificial yarns can fade, so it is best to refrain from placing such carpets near windows, on a sunny balcony, in a street gazebo and where there is a lot of light. These fibers are good in their practical qualities - they are easy to clean, strong and elastic. You don't need to handle such material too carefully during transportation - just fold the carpet as conveniently as possible.
Viscose carpet runners are quite light and beautiful. The advantage over natural bristles is that there is no allergy to them, they do not become electrified, and they are softer and more pleasant. This material is eco-friendly, but not as practical in some cases. It slips and reacts poorly to moisture due to the fact that it is made from wood. Sometimes wool is added to viscose
---
Natural fibers for carpet runners
Silk, wool, cotton are the 3 main materials used to make carpets. These materials are notable for the fact that they will serve you for a long time and faithfully. They do not fade in the sun or deteriorate.
Woolen carpets can be made on a machine or by hand, which will be more expensive. Woolen carpets and rugs retain heat well and are easy to vacuum, which expands the range of uses.
Colors and patterns on carpets
You can find absolutely any color of carpet runners - these materials are easy to paint in any color. This means that you can definitely find a carpet runner that will fit into your interior.
Patterns are also used in a variety of ways, but more often they use patterns that can be found in nature. For example, you can often find carpets with vegetation depicted on them. It can look especially interesting with the texture on the carpet. There is a wide selection of designs on children's carpets - you can find both bees and painted cities.