How to choose a carpet in the nursery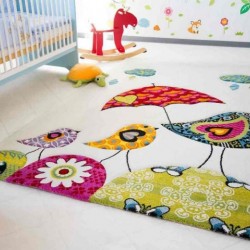 When decorating a child's room, most parents have a question, is it worth it to lay children's carpets? The answer is unequivocal - of course it is. After all, a well-chosen carpet product can not only give children's warmth and comfort, but also provide it with additional heat and sound insulation. And, if up to six or seven months a baby mat for a baby is not the most important element of the room, then from the moment, as soon as the baby begins to crawl, the presence of a carpet is simply necessary. After all, crawling and walking on a soft warm carpet is much more useful than on a cold smooth laminate or parquet. Moreover, in the case of falls, which are unavoidable while learning to walk, the soft fleecy texture of the carpet protects your baby from damage.
What you should pay attention to when choosing a carpet for a child's room
Choosing carpets in the nursery, it is very important to carefully study their composition. Different materials have different structure and characteristics. Today, two types of products are widely represented on the market of carpet products. These are carpets from natural materials and carpets "Synthetics". When deciding which children's carpet to give preference, pay attention to the following characteristics.
Environmental friendliness and safety of the raw materials used when knitting a carpet. Of course, the best characteristics have products made from natural materials. They are made from natural materials and are completely safe for your children. However, before buying a product made of wool, be sure to check if the child has any allergies. If there is, then you will suit children's rugs made of synthetic fibers.
Practical use and ease of cleaning the surface of the product. From this point of view, it is more profitable to purchase carpet products from artificial materials. Modern innovative production technologies allow to produce carpet products with high performance. Such flooring withstands pollution, is easy to clean and wash.
Comfort and safety. Studying the material from which the carpet is connected, ask what height the pile is, whether it is, whether it has enough softness. Children spend most of their childhood on the floor. Make sure that your baby's pastime is filled with comfort and care.
The cost of carpet. Usually, the higher the quality of the carpet, the greater its cost, so you should not save when choosing a product. But always consider the fact that sooner or later your child will mature, which means that the child's floor will become unclaimed. You should not overpay much, and then use such a carpet all your life, sparing the money spent.
Color and design. Carpet in the nursery should be ideally suited for the interior and the overall atmosphere of your child's room. He should like the baby and arouse his interest.