Children's carpet: pros and cons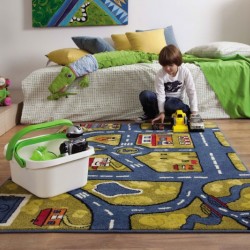 Children's carpet: pros and cons
We all know that small children the bulk of his time on the floor. That is why most parents are very careful to the choice of floor carpeting. Product for child's room should have a soft and warm surface, does not cause allergies and most important to be completely environmentally friendly and safe for the baby's health. All of these features has a children's carpet.
Giving preference to the children's floor, you can't go wrong. After all, modern manufacturers produce the product, taking into account all peculiarities of children's behavior, their development and interests. You can be sure that you are playing on this carpet, your child will feel comfortable and safe.
Manufacturers care about your kids, so make a carpet for children's room warmer than the other carpet. During the knitting of the carpet from the bottom side adds extra ball felt. It adds softness and fluffiness. Standard carpet for kids has a small pile, which greatly facilitates its cleaning. If your child something to spread or spill you can easily clean the cover with a vacuum cleaner or detergent.
Carpet for children's room issue, taking into account all age peculiarities of your baby. In order to develop your child's imagination, the coating is applied to bright and colorful drawings and cartoon characters and fairy tale characters.
Children's carpet from natural and artificial fibers. The pros and cons
Carpeted children's room is made from 2 types of materials: natural and artificial. Of course, the majority of consumers prefer products made from natural fibers. They are more environmentally friendly, but at the same time, it is not suitable for children with allergies. So, if your kid is allergic to wool or other natural material, we recommend you to pay attention to the carpet for a child's room from a synthetic material.
Besides, products made of synthetic materials have other benefits. They are not static, fire resistant and less erasable during operation. In turn, the coverage of natural bristles are prone to decay, education, moths and mildew. But, as a rule, they are more qualitative and durable. So if you want to buy carpet children's natural fibers, you have to buy the product, which was treated with special substances. Chemical treatment helps the product to cope with static and prevents the appearance of moths. Don't worry, all these substances undergo rigorous checks and is completely harmless.
Another significant difference between the coatings of different materials is their cost. If you decide to buy child carpet Kiev, then you will immediately understand that the price of products made of natural materials is significantly higher than the counterparts of synthetics.
What finally make a decision and the product material from which to give the preference, only you can decide. Most importantly, remember that children's carpet needs to be completely environmentally friendly and safe.