The "right" rug for the bathroom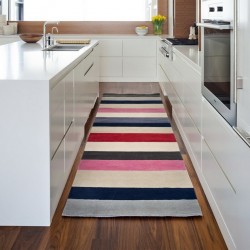 The "right" rug for the bathroom
Traditionally decoration of bathrooms tiles used. This high-quality, durable and practical material. It is hygienic, easy to clean, it is not difficult to keep clean. But unfortunately, for all its virtues, the tile has a slippery surface. Therefore, upon exposure to water easy to slip.
Statistics show that in these cases it is not always possible slight bruises. Frequent fractures and even more serious injuries. To protect yourself and your family from such problems is quite simple. Enough to buy a quality Mat for the bathroom.
This should be a quality product in a latex or rubber base that securely on the slippery surface of the tile. The pile is usually made from natural materials that can absorb excess moisture.
You should pay attention when choosing? First you need to determine the size. It is desirable that the pad to cover at least 2/3 of the floor surface. This will reduce the risk of falling to a minimum. Therefore, you should first determine the size.
As we have already said above, make sure as the basis and that it is securely fastened to the floor. The pile can be choose according to your Providence. Of course, natural materials very soft to the touch and absorb moisture well. But are typically more expensive, synthetic, and high humidity quite quickly fail.
The pile is made from acrylic or polypropylene has several advantages. They are resistant to wear, easier to care for and are subject to special treatment, after which they are not afraid of mold and fungi, inexpensive Additional benefit of affordable price and variety of the most incredible colors and patterns. With proper care, regular drying, they serve a few years.
In conclusion remains to add a few words about the design. Often pick up colors in the tone of the primary color of the tiles to withstand the style and create an atmosphere of harmony. But color contrasting also give a very interesting and unexpected effect. And most importantly - create good mood for the whole day.
To showcase our online store you can easily choose for your bathroom the best option that will correspond to such important indicators as the ratio of price and quality, as well as your beliefs about the appearance and design.